Trail Running Altavia 1 - From hut to hut
100km/6000m Elev.Gain – Guided Tour
Level -
Description
You will run in the most spectacular part of Dolomites. Breathtaking views, singletracks, wild animals, adventure between tall rocks, snowfields, easy Via Ferratas (if you want),...
You will sleep in hig altitude situated huts (called refugio), taste fantactic local cuisine, drink wine "della casa".
You will meet places known from Giro di Italia (Passo Giau, Passo Falzarego), you can find your limits or make new challenges. It´s going to change your running life.
Alta Via 1 is a 150-kilometre-long high-level public footpath which runs through the eastern Dolomites in Italy. It is also known as the Dolomite High Route 1. It passes through some of the finest scenery in the Dolomites. (Wikipedia)
- possible terms – June, July, September
- 7 days from Sunday to Saturday
- warm-up run and 5 stages in Dolomites
- min. 3 persons in group
- 2 nights in hotels, 4 nights in "refugio" – italian mountain hut incl. breakfast and dinner
- you run with all equipment (aprox. 3kgs) or you can pay an extra service – transportation of your bag from hut to hut (except Thursday´s night)
Program
Sunday
Arrival to Toblach
First easy run – 5-10 km
Dinner and night in the hotel.
---
Monday
Transport to Lago di Braies and beginning of the trail
1st Stage – 13 km – e.g. 1004m - Meet the High Altitude
From Lago di Braies to  the Natural Park of Sennes.
First day we have a dinner, bed and breakfast here.*
---
Tuesday
2nd Stage – 23 km – Head in Clouds 
From the Natural Park of Sennes to Lagazuoi.
Second day we have a dinner, bed and breakfast here.*
---
Wednesday
3rd Stage – 14 km – Meet the Eagles
From Lagazuoi to the Cinque Torri area.
Third day we have a dinner, bed and breakfast here.*
---
Thursday
4th Stage  - 32 km – e.g. 1.690m – The Rock
From Cinque Torri area through Passso Giau to the Civetta Mountain.
Fourth day we have a dinner, bed and breakfast here.*
---
Friday
5th Stage – 17km – e.g. 727m – Grand Arrival
Final Stage ends  in Passo Duran. Our car will wait for us there and will take us to the hotel. In the evening you can relax in Spa and enjoy afterparty.
---
Saturday
Breakfast in the hotel and "la via a casa".
* Can be changed due the capacity or weather conditions.
Total Price
1.090,00 €
Included:
guide service
accommodation - 6 nights
halfpension
transfer from/to Prague, Munchen or Innsbruck
Extra service
Baggage transfers from hut to hut - 290 €
Baggage transfer to second hut only - 50 €
Recommended equipment
---
You can pack your necessary stuff in 2,0 kgs (incl. backpack w/o water). See more.
---
Backpack
Windbreak Jacket
Hat and gloves
Down Jacket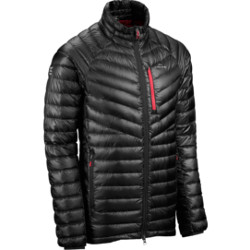 Silk sleeping liner